Intensive Study Programme Bucharest 2019
Jump to navigation
Jump to search
Bucharest Community Innovation Lab - Towards a Circular Economy for Romania's Capital City
Introduction of the Bucharest Community Innovation Lab
The Bucharest Community Innovation Lab is a space of collaboration and innovation for universities and local communities, based at the Bucharest University of Economic Studies (ASE). Its activities are open to students, researchers, faculty and staff members, and the local community represented by social businesses, local government, and individuals living and working in the community.
Through short and medium-term partnerships extended between the Bucharest University of Economic Studies and various social enterprises, the lab activities are designed to address the social enterprise challenges and to develop social enterprise solutions delivered as business plans. The lab also offers course material updates, problem-based learning material, and tools about current SEs reality in Bucharest on waste management. Additionally, case studies, exercises, and various examples of best practices between public and private stakeholder collaboration are developed.

Visual Overview of the mechanisms of the Bucharest Community Innovtion Lab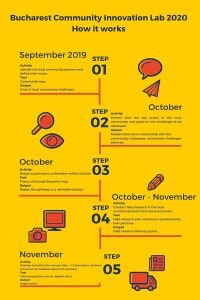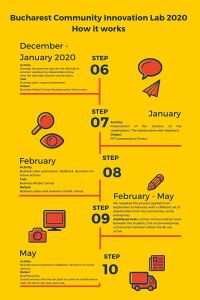 Activities in 2020 and 2021
This year, within the ASE local innovation lab, the focus is set on social startups, both urban and rural:
1. Students work in teams with a startup from a rural area to prepare it for launch: the rural social business Lepindea Museum of Traditions, Mures County.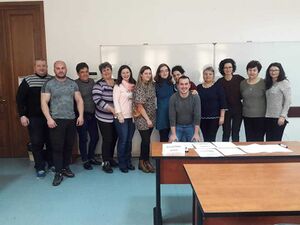 Group of members of the rural social enterprise
2. Students work in teams on the development of social businesses oriented towards solving social and environmental problems identified in Romania (approximately 10 social businesses). The solutions will be presented in May.
Why waste is a challenge for Bucharest
There is a serious lack of an action-driven waste management system for individual consumers

What do we do now with the used clothing items, paper, glass, the oil used in cooking, batteries, printers, used tires, plastic (bottles)?
What could we do differently (better) for the environment?

Too few companies are using circular economy in their business model

How do we convince more companies to integrate circular economy principles of reduce, reuse, recycle?

Serious lack of education for adults on waste management (at home, at work)

How do we convince consumers to reduce, reuse, recycle various items?
Introductory presentations by Daniela Staicu (PhD):
The Zero Waste Consumer Guide
How to avoid waste? It is easy! The Bucharest CIL has prepared a very practical user guide on how to consume without producing waste - or at least significantly less waste. The report is available in English and Romanian:
The Bucharest Ecosystem of Circular Economy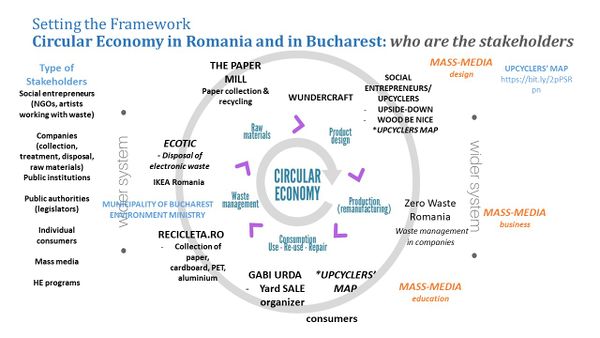 Focus Topics and Activities
Exploring Bucharest's ecosystem for circular economy
Focus: Recycling, waste management and circular economy
Cooperation with social businesses already active in the field of waste management:
Core question: How to strengthen the capacity of social enterprises based in Bucharest?
This will start by addressing concrete challenges the social businesses are currently facing
Mission of the Bucharest Community Innovation Lab
A space (online and onsite) promoting a new approach to promote creativity, entrepreneurial thinking and skills for designing innovation in close cooperation with the communities in which the University is embedded. This was hosted by the Bucharest University of Economic studies.
A learning tool to achieve the main goal of the project: to develop, establish and maintain a new framework for linking University to its local communities
A starting point for co-creation and co-founding of local entrepreneurial solutions to local problems.
A voice for the local challenges and the change makers (social entrepreneurs, businesses interested in implementing circular economy principles, etc)
The CLLC Workshop Group at ASE Bucharest in May 2019

Key dates and topics of the Bucharest Intensive Study Programme 2019
The Workshop Process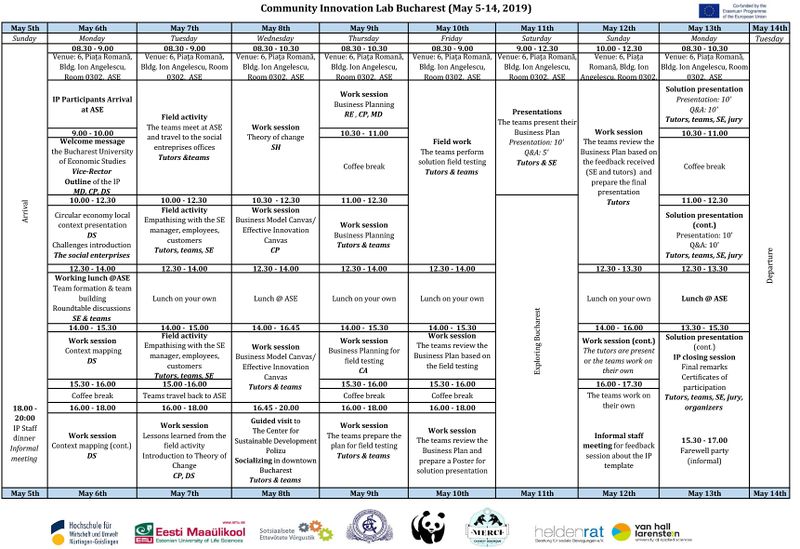 Outcomes
Impressions
Media Coverage