Project Partners 'Community Learning for Local Change'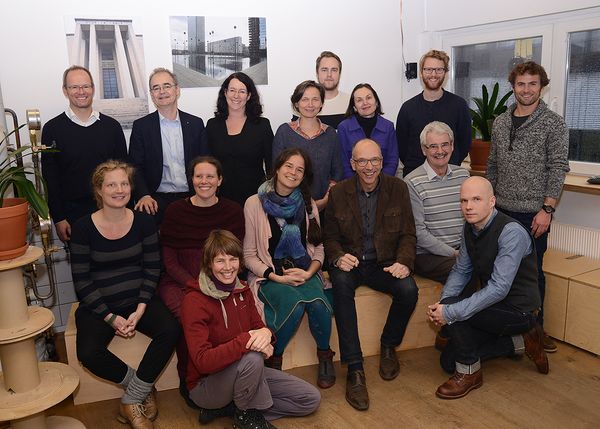 Germany
Nürtingen-Geislingen University (NGU)
NGU Staff
Heldenrat e.V., Beratung für Soziale Bewegungen
Heldenrat Staff
Dr Linda Kleemann: Linda Kleemann advises social sector and social businesses in strategy and organizational development. She holds a doctoral degree in agricultural and development economics from the University of Kiel, Germany and a master degree in economics. She co-designed and taught the first German MOOC on social entrepreneurship.

Dr Judith Jobse: Judith Jobse earned a PhD degree at Oregon State University (USA) in Ecosystem ecology where she published her dissertation, and taught 17 courses. Before moving to Oregon she earned a MSc in Environmental Sciences from Wageningen University and a BSc in Environmental technology from HAS Den Bosch University of Applied Sciences, while holding practical experience both in the Netherlands and abroad. In 2008 she started at VHL as a lecturer in the (Tropical) Forest and Nature management program. She also lead a 3 year KIGO-project which involved the innovative NGO Rewilding Europe and two Eramus intensive programmes (in 2013 and 2014). Together with VHL colleagues she wrote two publications on nature and wilderness entrepreneurship education. Judith is working on integrating Social Entrepreneurship for Local Change courses into a Minor of Sustainable Entrepreneurship at VHL.
Romania
Bucharest University for Economic Studies (ASE)
ASE Staff
Prof. Dr. Monica Dudian: Monica Dudian is a Professor of Economics at the Bucharest University of Economic Studies, where she received her PhD in Economics. She holds a Diplôme Internationale de Management from IAE Toulouse. Her teaching is focused primarily on Microeconomics. She directs research grants and performs research on credit risk and industrial organization.

Prof. Dr. Carmen Păunescu: Dr. Carmen Paunescu is a Professor of Entrepreneurship and Quality Management at the UNESCO Department for Business Administration, the Bucharest University of Economic Studies (ASE), Romania. She holds a doctoral degree in Economics from ASE and works with the university for 21 years. She also studied and conducted research at various universities from Italy, Sweeden, Belgium, France and the US. In 2004, Carmen received the prestigious Fulbright Scholarship at Loyola University New Orleans, New Orleans, USA. Dr Păunescu is a PhD advisor in Business Administration, with more than 15 doctors and doctoral students conducting research under her supervision. Carmen's research interests lie in the areas of social entrepreneurship, social innovation, business continuity, entrepreneurship education, and corporate entrepreneurship. Her teaching interests include Social Entrepreneurship, Entrepreneurship and Business Development, Business Quality and Innovation and Business Negotiations. She is author and co-author of several books or book chapters, as well as many research articles. Carmen has many years of experience with education, training, project leadership and project evaluation, having been involved in Erasmus+, Structural Funds and Romanian Government projects throughout the EU.

Dr Carmen Acatrinei: Dr. Carmen Acatrinei is a Lecturer at the Marketing Department, The Bucharest University of Economic Studies (ASE), Romania. She holds a doctoral degree in Economic Sciences – Marketing, title obtained from ASE in 2011 and works in the university for more than 11 years. Carmen has been studying and conducting research about the online environment and the employment of its marketing tools. Her teaching is mainly focused on online marketing. She is author and co-author of several books or book chapters, as well as many research articles. Carmen has been involved in Erasmus+, Structural Funds and Romanian Government projects throughout the EU.
WWF Romania
WWF Romania Staff
Oana Mondoc: Oana Mondoc is a campaigner, community organiser and project innovator working to bring lasting change in our world. In the last 8 years, as part of WWF, she has joined people in the field of ecology, technology, arts&culture to spark ideas with a positive impact for people&planet. She has led projects related to ecotourism, social entepreneurship, community based conservation, coordinated the Bison Hillock field research and internship programme; Currently putting in motion WWF's "Panda Labs" a framework for accelerating and amplifying innovation, in particular using emerging technologies with positive social and environmental impact; Most of the time you will find her in the rural landscape of the South Western Carpathians, her sourse of energy, working side by side with the people from the Bison Hillock area.
Estonia
Estonian University of Life Sciences (EMU)
EMU Staff
Dr Roger Evans: Dr Roger Evans is a Senior Consultant specialising in: product and service development in social entrepreneurship, rural tourism, food & activity tourism, rural community and rural business enterprise; project development; education and training for small enterprises in rural areas; the development of vocational education & qualifications with an emphasis on social entrepreneurship, micro business development, rural tourism, craft and local food production, rural community and rural development education, training and curriculum development. He holds a PhD in Agriculture and worked for the Scottish Agricultural College as a senior lecturer, trainer and consultant for 25 years. More recently he established his own training and development company in Estonia and has undertaken roles as a Board Member of 2 Social Enterprises and the with Euracademy. He undertakes training and business development throughout the EU and also works as a Nature Based Tourism Senior Specialist teaching and developing projects at the University of Life Sciences in Estonia. Roger has many years of experience with education, training, e-learning, consultancy, project leadership and project evaluation throughout Europe having been involved in EU Interreg, Phare, Structural Funds, Leonardo da Vinci, Erasmus+, EQUAL and Estonian, UK and Finnish Government projects throughout the EU and in Africa.
Changemakers
Changemakers Staff
Erkki Kubber: Erkki Kubber is a social enterprise trainer to help social enterprises achieve their goals. He feels that every single one of us should achieve their potential in their life through meaningful activities. This is what is driving him each day to help others and become better himself to be an example. He is leading the most popular youth program in Estonia, Changemakers. Erkki a bachelor degree in Public Administration and minor in Business Managment from Tallinn University of Technology. At the moment he is getting his Masters Degree in Communication Managment from Tartu University. Besides academic knowledge, he has attained experience in entrepreneurship through direct sales in US, selling educational products door to door, doing more than 7900 contacts through just with in 9 months of his life. Have sold the products in value of more than 110 000 $ (average bought is around 330-520 dollars). Executed all ordering, inventory, sales, accounting, scheduling, presentation and delivery of product.
The Netherlands
Van Hall Larenstein (VHL)
VHL Staff
Daan van der Linde: Daan van der Linde is a Agricultural engineer. He moved away from the field of agriculture towards the field of regional development and spatial planning. He is primarily interested in the interactive planning techniques, with a strong interest in involving stakeholder groups in planning decisions. He is an active supporter of sustainable development in the Van Hall Larenstein UAS organization and chairs the Sustainability Network Group. As a teacher he is convinced that students in higher education must be immersed in 'real-life situations'. For this purpose, Mr. van der Linde is active in the local Arnhem and Rheden network. Daan is also a promotor of international cooperation and is active in an international EU network: Community Learning for Local Change. (Fetzer, 2019) This network is fully integrated in the Green entrepreneurship learning module, with the aim to provide an international learning environment for the ML students.Since September 2017, he is part of the new Management for the Living Environment-course, but also of Forestry and nature Management-course and the Land and Water Management-course. He will take the role of coordinator, teacher and tutor in this course. He has his MSc in Plant Protection Sciences from Wageningen University and his personal interests include cycling, hiking, reading, city trips and photography.

Freddy van Dijken:Freddy is the coordinator of a new Bachelor Programme, Management of the Living Environment (Urban Spatial and Environmental Planning) with the specialization, Smart City Development at the University of Applied Sciences, Van Hall Larenstein in Velp. He studied Garden and Landscape Architecture at the University of Applied Sciences, Van Hall Larenstein and worked as as a coordinator for that course. He is interested in connecting people and politics. He likes the challenge of translating all wishes and requirements into (new) changes or new business. He is also involved in urban development, community engagement and active citizenship. Freddy is also working as a programme manager of a course in Arnhem; a project to promote the city of Arnhem for students. It aims to foster partnership working between the three Universities of Applied Sciences in the municipality of Arnhem.
Partnership Map