Blended Intensive Programme Nürtingen
Jump to navigation
Jump to search
>>> Back to seminar overview & registration
Key dates of the Nürtingen Blended Intensive Programme 2023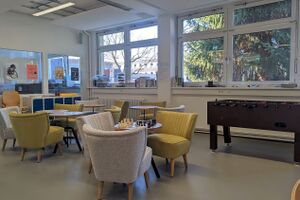 Time frame:

digital programme from mid March - June 2023
On-site ERASMUS workshop from April 21 - 30, 2023

Host: Nürtingen-Geislingen University (HfWU)
Focus Challenge: Fair trade, mobility transition and foodscapes with our local Climate Task Force
Community and workshop location: City of Nürtingen with neighbourhoods
Participants: students and staff members from the ERASMUS partnership, NGO and community partners
Focus topic 1: Development of a World Kitchen for Nürtingen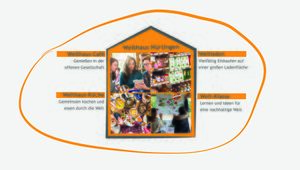 Context
The public welfare-oriented cooperative "Bürger:innen-Genossenschaft Nürtingen eG" is acquiring a commercial and residential property in a prime location in Nürtingen (Kirchstraße 14) in order to remove it from the speculative cycle (floor area 125 sqm, usable floor area approx. 400 sqm). As owner and manager of the property, the cooperative would like to provide space for a Fair Trade Shop, a Community Kitchen and affordable housing.
The World Kitchen will contribute to a more inclusive urban community. A multifunctional space on the 2nd floor (approx. 90 sqm) is planned, in which a kitchen will be set up, as well as the possibility to hold events with up to 50 people.
Business challenge and questions to be addressed
Which local partners could participate? (e.g., associations, interest groups, churches, city administration, agriculture, research, food processing, urban gardening, institutions from regional and fair trade).
Which offers, services and formats could be developed and offered for whom? (e.g., further education, lectures, events, cooking classes, play afternoons, projects).
How should the space be designed and equipped?
How should the World Kitchen be organized (staff, responsibilities, core processes)?
How can the costs for the floor be covered? (e.g., rental income, rental sponsorships, grants, donations).
Focus topic 2: Developing Alternative Food Systems for Nürtingen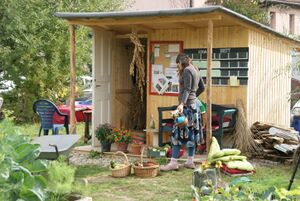 Climate protection, biodiversity conservation and food culture are systemically closely interlinked. This creates a so-called 'wicket problem' that cannot be addressed with sectoral solutions alone.
In connection with the shift of food production away from food consumption, the link between food and people has also been broken. Food has become an abstract thing that is produced somewhere by someone and is always available everywhere and in any quantity.
But is that really the case? As the covid pandemic and the condemnable war in Ukraine have shown us, food production and consumption is a sector about which we seem to be most vulnerable, because eating is something all mammals (which includes us humans) have to do every day, multiple times.
Food and its production and distribution is an area of increasing focus at universities but also in the public eye. Also in view of the climate change that is currently happening.
During the online preparatory course, we map the community and the main actors related to the food system of the three campuses of the HfWU University (Economic, Braike and downtown campus). Then, during the Social Innovation Week, we visit the various actors, assess the students' needs, and ask ourselves what food is delivered to the individual HfWU sites, where it comes from, how it is processed and what is left over.
After understanding the problems and needs of the students, we develop business solutions for alternative meal options with a wholesome, healthy and economically self-sustaining offering such as food trucks, student bistro, making existing places visible and setting up a discount system, etc. We create our first prototypes and test it on site, so you will be able to create your business model canvases by the end of the course.
Focus topic 3: Developing alternative uses for a neighbourhood Church in Nürtingen
Nürtingen-Geislingen University is involved in the neighbourhood development of the so-called 'Kirchheimer Vorstadt', which is the district just east of the main station. It is a very centrally located and multicultural urban environment. The district is facing multiple challenges such as lacking green space, increase of traffic, investment gaps for the energy transition, decrease of social inclusion and flood risk.
In the course of the discussions, it has turned out that a small protestant church in the district plans to withdraw from its location. This would open the building and its direct surroundings for new uses, ideally serving the neighbourhood as a whole. During our workshop, we will cooperate with the protestant community and support the ideation process of how the building could be transformed.
Excursion to Mannheim
We will finish the workshop with a joint excursion to Mannheim. The city is hosting the German National Garden Show this year. This is not a flower show, but a truly innovative approach to integrated urban development.
In addition, we will be acquainted with the local social innovation & entrepreneurship scene, which is very active and diverse in the city.